Integrated Agency Blog
AZ Poll Ranks FabCom Best in 4 Marketing Agency Categories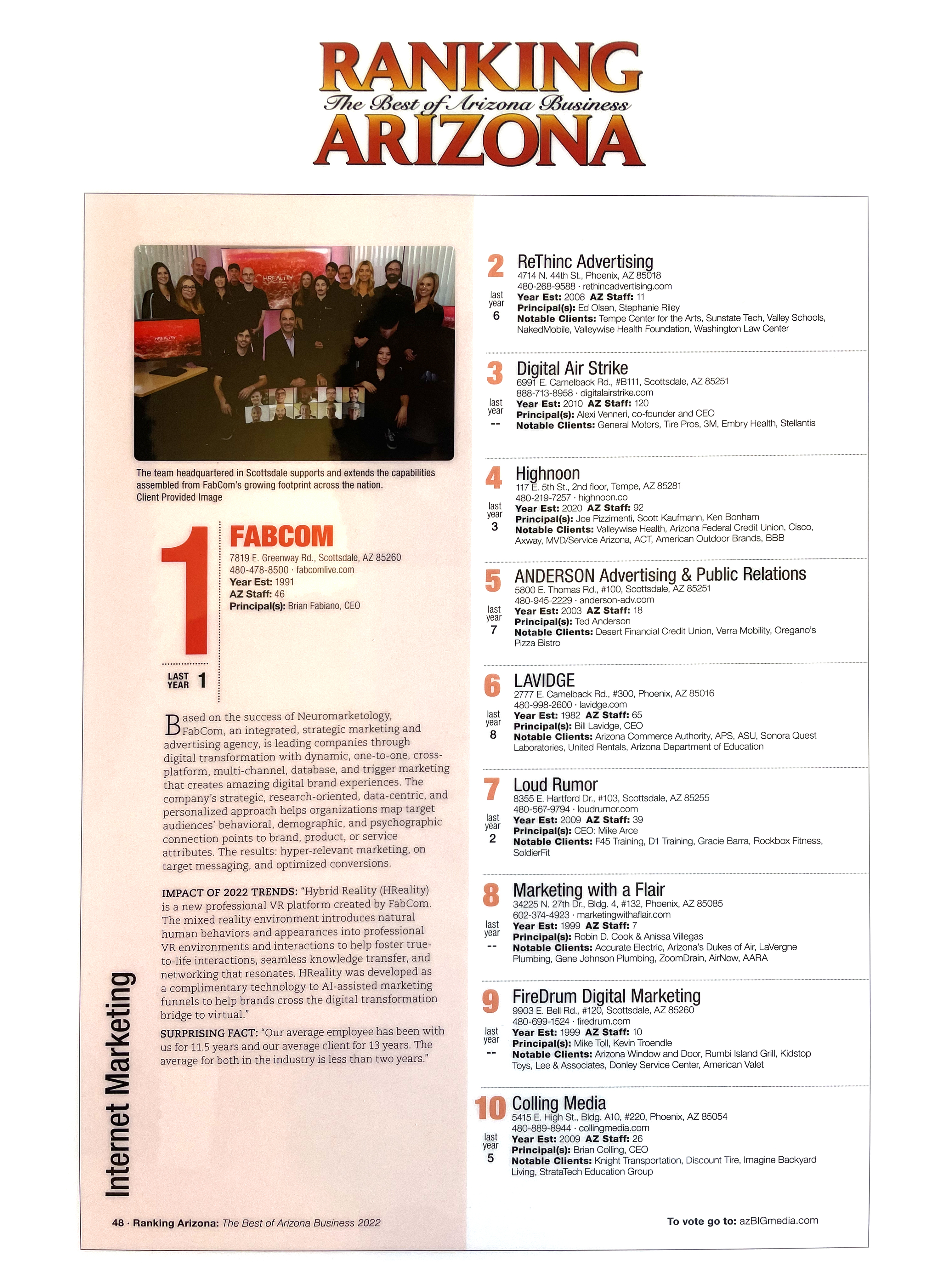 Determining the best marketing and advertising agency in the Phoenix metropolitan area is challenging. When moving your brand from another city or firm, the stakes are high. You never know what you're going to get... like picking the best restaurant in a new city. When looking for the delivery of superior quality marketing and advertising services that provides astounding ROI, the adage "the locals know best" rings true, trust the ones who know the establishment. Ranking over 2,000 AZ businesses every year, Ranking Arizona is the largest business opinion poll for AZ businesses, determined by the residents of Arizona.
Ranking Arizona believes, "A company's revenue and number of employees shouldn't be the only criteria used to judge the best." And it wasn't just the numbers that ranked FabCom among the best, it's the public opinion from over 30 years of launching brands to new trajectories nationwide from Scottsdale. Ranking Arizona 2022 didn't disappoint, FabCom was ranked among the best in four different categories!

#1 Internet Marketing
#2 Advertising Agencies
#2 SEO/Social Media Marketing
#3 Graphic Design
We're honored to be recognized as a significant part of the community. Our dynamic marketing services span the gamut of marketing and advertising capabilities, from branding and positioning to experiential marketing to marketing business intelligence, and are proof that integrated marketing is the one-stop-shop for brands who are serious about ROI. Thank you to the team members who continually strive to do their best work and have contributed to our reputation as a top marketing and advertising agency in Arizona.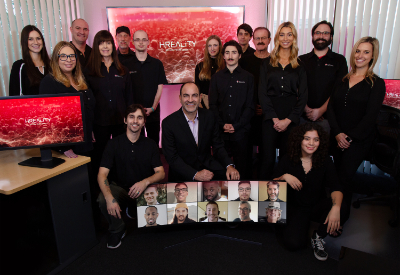 Brain Fabiano, CEO of FabCom, states, "I am humbled once again by the creativity and technical prowess of the teams at FabCom. It's interesting to note that we don't have many competitors who have stood the test of time. We are proud to be ranked next to Lavidge, a true competitor who has always done things right as top professionals, like our firm. There are few agencies with real professional marketing integrity and it's fitting Lavidge is right there with us after three decades of delivering promises for brands. We don't tell a client what they want to hear, we work to help the client accomplish what's next."
As a fully integrated agency with expertise across marketing and advertising, data analytics, video production, event production, and VR and AR integration, FabCom is the only agency in our class who has consistently exceed expectations through performance. Operating out of Scottsdale, FabCom has helped companies take the leap from analog to digital with the induction of the internet. Three decades later, the agency is still kicking down innovation's door as we help the next generation of brands transition from digital to virtual. With the dawn of the third generation of team members leading FabCom, the brand experience agency is debuting innovative new technologies in the realm of AR, VR, blockchain, and AI to help companies cross bridge of digital transformation to metaverse and Web3 experiences.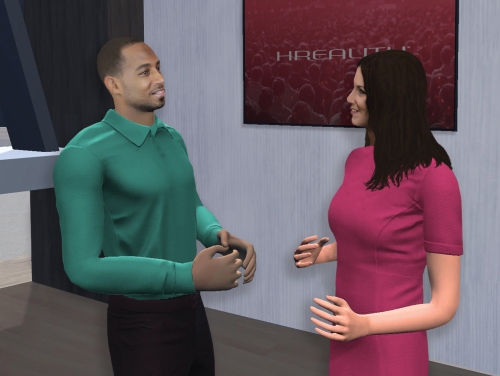 With the debut of the HReality technology platform, a first-person mixed reality environment, natural human behaviors and appearances are introduced into professional VR and hybrid environments to help foster true-to-life interactions, seamless knowledge transfer, and networking that resonates. Meant to be easily adopted and experienced with just a web browser, and utilized without head and hand gear, HReality was developed as a professional alternative for education and business to experience shared AR/VR metaverse environments.
HReality was developed to dynamically meet a variety of professional and educational needs, and is innovating the next generation of online virtual interaction through multiple industry platforms:
The top integrated marketing agency has also built BlockSolid LLC as a separately operating division and complementary technology to HReality LLC for education and training industries. BlockSolid offers blockchain commerce and security solutions with the learner at the center of their data, enabling the student to aggregate their didactic education, certified experiences, competency-based credentials, and any work-based records within a personal webpage that updates in real time. BlockSolid is also developing new solutions for industry to integrate non-fungible technology and smart contracts to help protect IP and the look and feel of their brand as they build new assets within virtual commerce spaces.
Innovate the future with the support of FabCom. Learn more about becoming an HReality beta partner here.