Integrated Agency Blog
Gates Advocates for Businesses to Join the Metaverse
Business Insider recently published an article about VR and AR in business titled "Bill Gates says most virtual meetings will move to the metaverse within 3 years, and workers will interact using VR headsets and avatars."
In the past couple of months, we've seen multiple titans of industry discuss and make moves towards the proverbial metaverse or Web3. In August, Zuckerberg debuted Horizon Workrooms, a VR app for teamwork in virtual office spaces. Then Microsoft announced further VR integration with Teams with Microsoft Mesh. And now Bill Gates in his annual blog post states, "Within the next two or three years, I predict most virtual meetings will move from 2D camera image grids … to the metaverse, a 3D space with digital avatars."
Like Zuckerberg, Gates believes, "To do this, you'll need something like VR goggles and motion capture gloves to accurately capture your expressions, body language, and the quality of your voice. Most people don't own these tools yet, which will slow adoption somewhat." 
Although, in an interview with The Verge, Zuckerberg details a future of less encumbering headgear and more realistic avatars. This is precisely what Brian Fabiano, FabCom CEO and HReality visionary, has been advocating for the past couple of years, and the future is here today with HReality.
"FabCom, as an integrated B2B2C marketing and advertising agency, knew there needed to be a more professional application of this new technology. Based on the experience of working for over three decades in professional services and education industries, we knew the foundation and base technologies that will empower this revolution needed to dynamically meet a variety of professional and educational needs with trust building, networking, and knowledge transfer," says Fabiano.
In June 2020, after years of development in their Scottsdale agency lab, FabCom launched the BETA version of HReality, a business centric hybrid VR platform. And in November 2021, HReality successfully beta tested a conference with an agriculture association.
While HReality integrates the digital and physical interactions, the platform is fully experienced without the use of VR headgear and gloves. No headgear, additional equipment, or IT hassle enables businesses to easily integrate the platform with the technology they already utilize, enabling instant adoption and widespread access. And through the novel use of haptic and kinetic feedback, HReality enhances immersive learning experiences.
Compare gamification of VR with Horizon to HReality.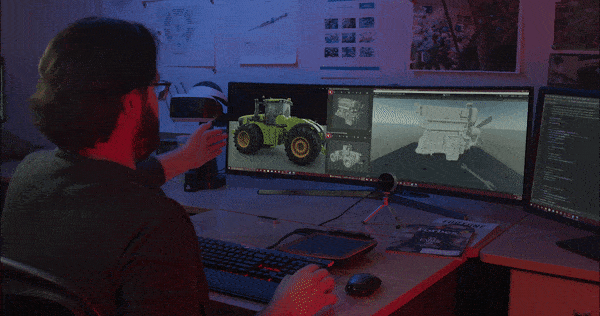 Designed with interaction in mind, HReality is currently in beta development for use in multiple industries. Debuting in 2022 as freeware, HReality Events aims to revolutionize the delivery of conferences and trade shows. With only a small deposit to provision an event, HReality Events can be planned by a single person and returns 70% of proceeds to the host. The devil is in the details of event production. Check out this cost comparison between planning a traditional event vs. an HReality Event.
What could you do with HReality? What should you be doing to connect across the generations? Get started now with the team that will lead you 3-5 years head of the pack. Learn more about HReality, HReality Education, and becoming a BETA partner here.