Integrated Agency Blog
Ad Age Proclaims Shift in Virtual Events, Among Calls for Hybrid Meeting Solutions
In its January 2022 publication, Ad Age proclaimed a "sudden shift" happening with the delivery of in-person conventions and tradeshows, claiming "Scaled-down CES is a warning sign for brands. Marketers face an uncertain 2022 industry calendar that kicked off with poorly attended electronics show."
FabCom, a brand experience, marketing, and advertising agency in Scottsdale, AZ with capabilities as a VR development agency, has created and refined a completely different approach to a remote hybrid solution for business and education. HReality Events, launching for public release in the first quarter of 2022, is a business-centric hybrid VR platform for conferencing, conventions, and tradeshows. The freeware platform combines revolutionary methods with industry trendsetting functionality to create superior quality virtual and hybrid events, as an answer to the online to virtual transformation.
The top advertising industry report goes on to explain "Brands and marketers thrive on live events like CES to learn about the latest innovations and create new business partnerships. During the pandemic, companies have had to adapt to prepare for live events, but they also need last-minute options to meet virtually, according to event planners…" This thinking is a highlighted theme among the latest conversations surrounding events. We all know humans like to engage, and this time, a robust hybrid alternative is needed as the solution.
For the past couple of years, this has been a seemingly impossible conundrum to navigate for most marketers and event planners alike. Clearly, engaging interactions and events are integral to industry and education. Although, we're in a time of heightened awareness toward health and group gatherings, all the while digital transformation is compounding to launch the economy from digital to virtual—creating another perfect storm of digital transformation.

Flexibility is Key
For some, the solution may be to get rid of all in-person events in favor of fully virtual, while others discount the possibilities virtual offers altogether. Rather than all or none, a dynamic, hybrid solution that empowers marketers is necessary to connect stakeholders in multiple ways. Flexibility is key as brands adapt to doing business in the new normal.
HReality (short for Hybrid Reality) is a revolutionary, industry changing, turnkey solution that solves today's current challenges of helping brands cross the chasm to meet their customers, markets, and environmental conditions where they're at. A hybrid solution born out of the convergence of new capabilities from multiple industries, HReality is developing for the not so far off future for business and education (like integrating lidar and other already proven technologies assembled together to enable full fidelity interactions without the use of head or hand gear to track immersive movements), while bringing to market hybrid solutions that are needed and now deployable.
Small brands, sleepy brands, and big brands are all starting to realize the possibility of merging the new market connection realities of post-pandemic business, education, and events. Just consider the rich opportunities virtual integration offers: enhanced reach, greater engagement, and the ability to influence and account for interactions across digital ecosystems through new modalities of data capture (check out this deeper dive into quantum analytics). Hybrid, virtual experiences added to your brand's communications, channels, and gathering environments offer the magic of full fidelity interaction with engaging, immersive moments. And most of all, it meets the markets as they migrate.
David or Goliath?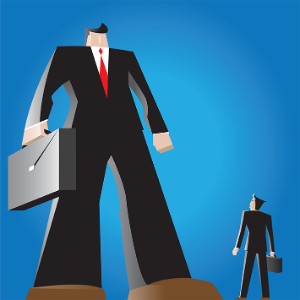 Historically, we know it's not the big brands leading discontinuous innovation. Rather, integrated, agile communications-centric and nimble tech adopters are at the forefront of implementing this invention, too. As with all discontinuous evolutions of technology and new connection capability, FabCom will share recommendations and build new pathways with another generation of risk-adverse industries and enthusiastic go-getting early adopters to help impact efficient, sustainable transformation at the brand growth level.
This is another field-leveling innovation in commerce capability—from big to small and old to new, brands need to address virtual integration or be left behind … similar to those who adopted or neglected the Internet from '91 to '95.
Adopting New Tech Efficiently
FabCom's innovations with HReality are shaping up to be a black swan event. It's the classic case of not seeing the innovation until the big fish make announcements and "sudden shifts" in tech outlook happens, like Zuckerberg with Meta, Microsoft's Mesh, and Bill Gates' annual blog recently announced. The visionary and wise stewards know that it's a case of cross-discipline adoption to earn market share effectively that creates digital bridges for customers, stakeholders, or constituencies as they migrate new tech landscapes; while the naysayers will start paying attention when they notice deteriorating bridges of customer flow after years of suffering growth attrition.
The conundrum of adoption isn't new and tech innovators are in on the joke. Check out FabCom's recent social post discussing this topic with our favorite Super Bowl ad.
The Conundrum of Adopting New Technology
Many industries, such as education, are risk averse in nature. When new information, methods, or technology are put on the table, they're often met with resistance. Let's face it, in academia only after decades of peer reviewing new thinking or knowledge is it acceptable to adopt new technology. In the case of new and emerging technology, by the time case studies are proven by others first and articles published within risk adverse industries, the business would be suffering as a laggard to efficiencies. Technology evolution of new communication platform classes are now accelerated every 1-3 years (historically this was 10 years).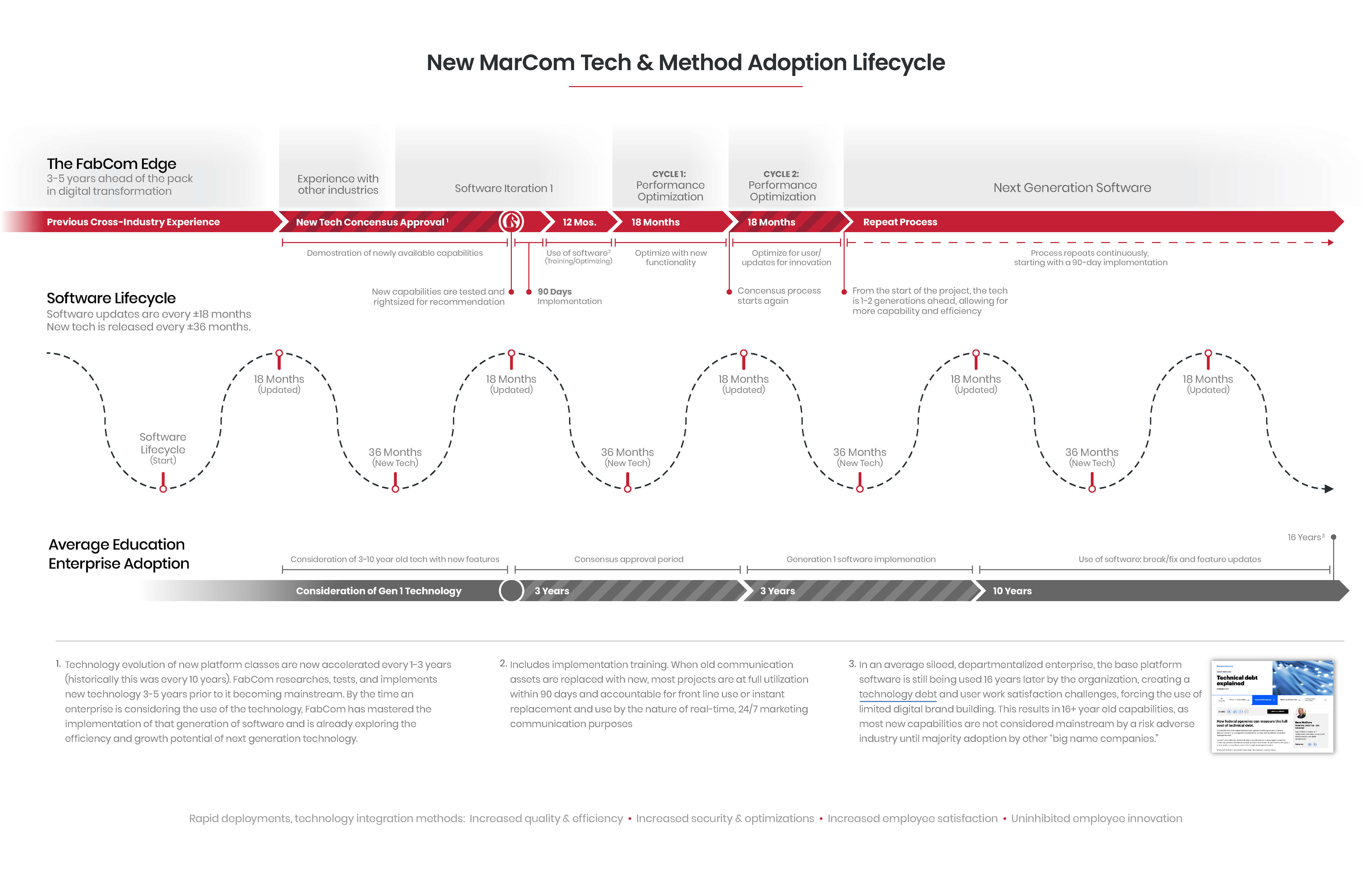 Adoption of virtual is currently a chicken and egg situation. Many brands may believe they don't need virtual yet because their customers aren't interacting in the metaverse. But similar to the adoption of the Internet, consider the early adopters of websites versus industry-wide adoption during the '90s. The difference between early and late is three years with discontinuous technology. The leaders who had vision in every industry ate market share, and conversely, naysayers got caught in the .net bust or Blockbustered when the stakes were high. Timing matters. Foresight matters.
Like the adoption of AI into integrated communications, this begs the question of who should lead the charge: IT or communications? And don't forget about those who must wield the capabilities daily. Leaders have found it takes both art and science working in perfect unison, with each team staying in their lanes while also complementing each other's core competencies. Three bids of specifications that match what everyone can provide delivers the cheapest version of what everyone else is doing, or at least the same. This is trapping a brand in commoditization, not creating new efficiencies and brand preference with creativity and new capability.
A Fusion of Strategy, Technology, and Creativity Becomes the Solution
As the Scottsdale-based integrated marketing agency with a three-decades-long record of leading small and midsized brands 3-5 years ahead of the pack, FabCom is offering another integrated solution to compete with the big brands at scale. Because of adoption rates and how customers react to shifts in the market, by the time the next big thing is in the news, FabCom has tested, deployed, and refined solutions to provide more options for your brand to efficiently consume efficient market share and confidently adopt new methods. This time, it's HReality.
Ad Age finally recommends that event planners in 2022: "Need to plan for the people who show up, but also cater to the off-site crowd. 'Shows need to give more thought to digital infrastructure to make sure it's as good as possible.'" Everyone in the business knows that's obvious, this is an elemental notion for seasoned event planners.
With the sudden shift toward virtual events, HRealityEvents.com offers an immediate, one-of-a-kind solution.
Is Zoom or Teams
Considered Virtual?
The business and education markets have learned from the past couple years of experience that flat video interaction via Zoom or Teams doesn't cut it for experiential events. The challenge is that many business administrators have been convinced that flat video is "virtual." Comparing a mere live video transmission of traditional conferencing platforms to virtual interaction is similar to watching a movie while cooking versus playing a video game that you're totally engaged in. True virtual reality is in a 4D space where the user is truly engaged in the movement, learning, or networking (just like real life). In contrast, video conferencing platforms don't allow your persona to physically interact within the same space remotely and only empower skim listening, watching, and multitasking.
Let's consider how much has changed and where we're at in this emerging landscape. Gates believes most meetings will be conducted via VR headsets and avatars within the next three years and HReality is leaps and bounds ahead in quality and interactive fidelity without the use of headgear (which is where Zuckerberg believes we'll be in 10 years). You can bet your bottom dollar that go-getter brands and company leaders in stewardship, even in risk adverse industry sectors, are seeking new solutions to update their digital infrastructure … with teams who are at the forefront of this space.
The Team with Technical Prowess and Decades of Experience
Why not go with a team who has the expertise, technical prowess, and reputation of leading this industry and brands to outperform and out innovate the giants in connecting your brand to new audiences? After all, it's not specifically about buying and deploying new tech—it's about leveraging it for growth, quality, and to the delight of stakeholders. As an integrated agency, we've led brands in the online transformation from analog to digital, and we're doing it again as brands transition from digital to virtual.
What should you be doing to plug into new technology and connect your brand across the generational and discontinuous divides in communications, marketing, and differentiating your experience? What could you do with the efficiency, functionality, and flexibility of HReality? Get started now with the team that will lead you 3-5 years ahead of the pack! Learn more about HReality and becoming a BETA partner here.