Integrated Agency Blog
Which Popular Livestreaming Solution is the Best?
Over the past couple of years, live online video has skyrocketed in popularity. From entertainment to conferences and events, livestreaming has proven to be an important part of the video industry and the use of video within marketing efforts. It allows thousands of people to participate in a shared experience in real time from anywhere in the world.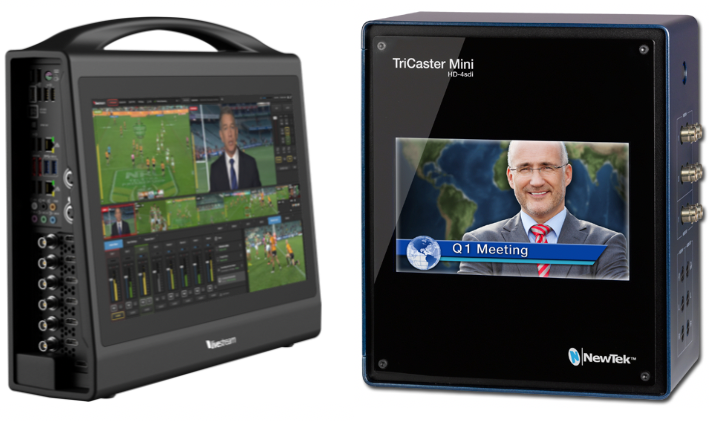 FabCom, a Scottsdale advertising agency, has been testing two of the most popular livestreaming solutions, the TriCaster Mini SDI and the Livestream Studio HD550 4K, to find the best option to bring this technology and outlet to our clients.
Transportation
The TriCaster Mini SDI is small and compact, and our unit came with a sturdy pelican case for travel. However, due to the lack of a usable screen built into the unit, you also have to carry a monitor, and purchase a secure traveling case for that as well.
The Livestream HD550 4K also comes with a case, although it's little more than a messenger bag. However, the built-in screen on the HD550 means that everything you need is ready straight out of the box, with no additional monitor required.
Software
Initially, the HD550's software creates a more user-friendly experience. The location of all tools and effects make sense, and the naming conventions for the different layers and transitions are clear. At first touch, the HD550 is easier to use, however, once you grow accustomed to the TriCaster's software, it is significantly more powerful. The TriCaster allows for more graphics and effect layers, and the built-in virtual set utility is a brilliant way to place subjects anywhere in the world.
Features
The HD550 offers more out of the box hardware flexibility, with 5 HDMI/SDI switchable inputs and 2 XLR inputs for video. The TriCaster has fewer inputs but makes up for it in expandability. With the NDI interface, we can add four additional network-connected cameras. While it lacks an XLR input, you can connect a sound mixer for as many inputs as you need.
Which is Better?
Overall, both are excellent choices. The HD550 offers strong features and ease of use out of the box, but the TriCaster is ultimately more powerful and more expandable. FabCom will continue to use the TriCaster as our primary livestream switcher and utilize its advanced features to expand livestreaming capabilities.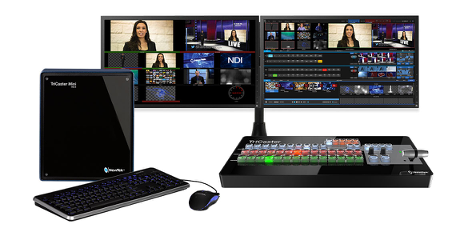 As an integrated marketing and advertising agency, FabCom brings the best of business strategy, creative strategy, and new technology to all of our services, and part of that process is knowing the ins and outs of new technology before anyone else. Our new TriCaster Mini SDI will allow us to stream limitless content to many audiences.