Integrated Agency Blog
Leading the Way with Business Strategy, Creative Strategy, and New Technology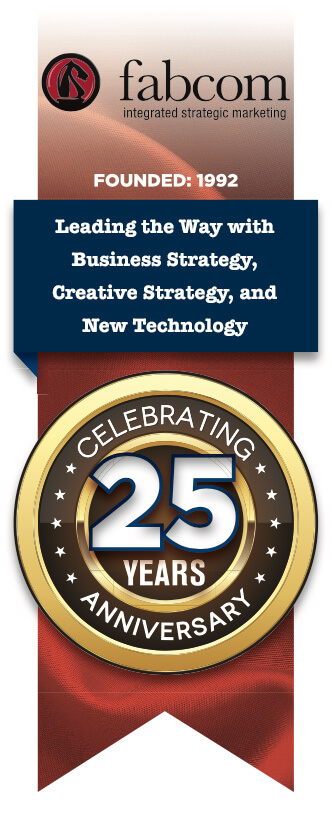 FabCom is proud to celebrate 25 years of innovation and creativity in Arizona.
Being an integrated, strategic marketing and advertising agency is distinctive; becoming continual technology innovators is game changing. At its founding, FabCom was among the first strategic online full-service marketing agencies in the country, and that was just the start.
Decades later, FabCom continues to empower brands to reach their full potential by converging the best of business strategy, creative strategy, and new technology that together wield high-impact advertising and results-driven marketing.
As the model for the new breed of marketing agency, FabCom has consistently reinvented for clients what was possible for their businesses with the application and deployment of new marketing capabilities and dynamic content development.
FabCom has a deeply proven track record as creative methodology innovators with a long line of Valley firsts:
First marketing firm to guarantee the results of your marketing plans. First in the Southwest to deploy artificial-intelligence-empowered marketing business intelligence into our weekly marketing meetings with clients. First marketing agency in the Southwest to adopt real-time ad tracking as well as real-time and responsive mobile designs—long before the rest of the pack. First agency to deploy dynamic augmented reality cross channel within a print ad (Phoenix Business Journal) First agency to deploy multi-channel dynamically-personalized advertising.
FabCom has become a team of 38 award-winning creatives located in their Scottsdale headquarters with satellite offices located in Los Angeles, Calif.; Seattle, Wash., and O'ahu, Hawaii. Together, they craft powerfully engaging advertising and neuromarketing messaging, as well as world-class strategic advertising programs that continually refine the smallest nuances of each campaign.
Fueled by FabCom's proven brand mapping methodology, Neuromarketology™, the agency's teams continually create amazing "wow" moments for customers spun from the new capability of integrated multimedia productions. These include smartly deployed artificial intelligence, big data targeting, and cinematography-level special effects including augmented reality to create amazing brand experiences online or off.
Neuromarketology creates unsurpassed ROI for clients through the power of harnessing visceral emotions. As authors of the book by the same name, FabCom's teams employ these respected neuromarketing methods to help establish a true emotional connection with those you want to influence. They have created new possibilities for industry out of utilizing data, science, and creativity to select the best methods and hyper-relevant segmented messaging to communicate persuasively with each target audience.
With deep Valley roots, FabCom believes it is their responsibility to give back to our community. Through the years, FabCom has donated more than $1 million per year in in-kind services to Valley nonprofits.
FabCom has been ranked in Phoenix Business Journal's Book of Lists consistently as a top agency for the past 20 years. Industry recognition ranges from awards of excellence to top 10 advertising agencies, top 10 interactive marketing firms, agency choice awards, top 50 most innovative companies, and more.
Let's be better together. [email protected] (480) 478-8500