Integrated Agency Blog
Are they really worth a million words?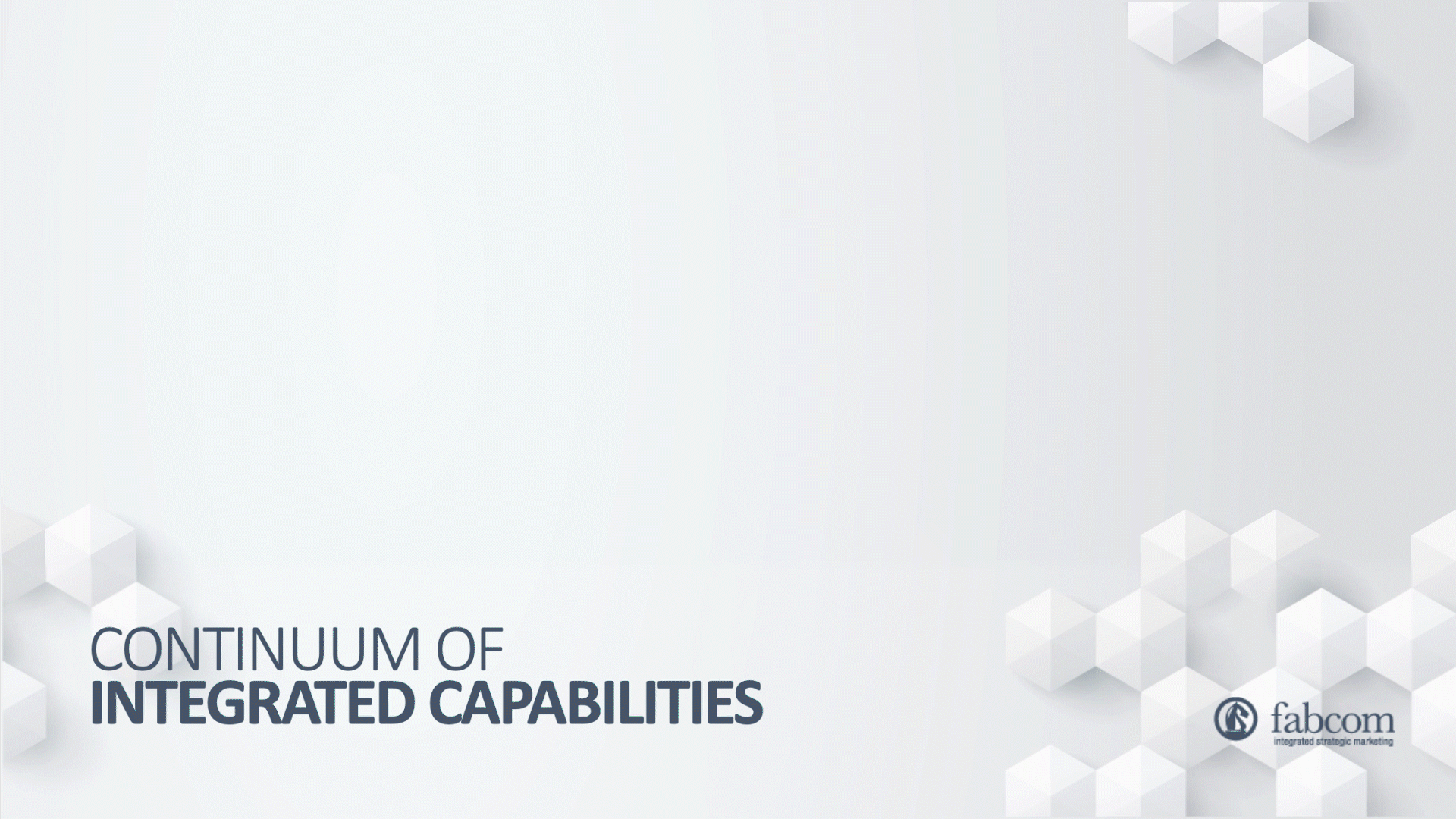 Sometimes a picture is worth a million words. As the first of the new breed Arizona agency truly providing end-to-end integrated marketing work all under one roof, we have written a million words on the subject. (See some of our case studies and white papers on integrated marketing methodology.) In fact, for the first 10 years we advocated the methodology and clients' heads would bob from all the buzzwords. Today, those buzzwords are common marketing speak. As we have become the best of class of the new agency model for marketing and advertising, FabCom is now teaching and mentoring the value, efficiencies, and world class results (400% more) that can be achieved from the same marketing effort with a completely different methodology.
How do you achieve end to end attributions if your work is not created to embed the attributions within the elements of the customers' interactions? How do you accomplish this without it taking more time and budget than you have? How to accomplish end-to-end attributions across the customer's journey if the current teams are not armed with those tech stacks and experience? If those interactions are across multiple channels and multiple screens, how do different workgroups with different databases create a progressive messaging journey that matches the time and place customers are in the buying cycle?
The answer: they can't. It's impossible. And those that can't do this have to keep the people that are paying for it all from reading this for another 10 years until they can learn new methods. It's the single biggest killer of brands. What happens to the market share and the opportunities of the brand for the next ten years as marketers learn new go to market methods? We call it the ostrich syndrome: Ignore it like it does not exist and I do not have to change everything or be threatened by the change. How do multiple companies or multiple departments or multiple vendors NOT duplicate and dilute the work and confuse the progressions of messages. How does fragmented production and creation NOT drive the costs and time to produce all of the little pieces required to connect customers in the online purchasing journey up so high that a brand can only afford to advertise in a few of the channels. How do small in house teams keep from fragmenting the momentums of progressive messaging across multiple channels?
When you conceive and produce campaigns as multichannel and multitouch campaigns, they now are empowered, for the same dollars, to produce 400% more adverting assets in 400% more channels in one-fourth the time. This is why, for the same dollars and same time but with an integrated methodology (sorry small teams filled with jack of all trades types with lots of little vendors), it now takes at least a 28-person expert ninja team and the integrated right tech stacks to capture those efficiencies.
There's that word again. Although, this time I am not talking about the talent mix or the workflow and creation methodology of creating marketing content elements once and leveraging them many times, in many forms, in many channels to logically increase your connection points to your targets. Instead, this time, we are talking about the nature of the tech the teams leverage. All of it must match form to function. If you want an integrated brand with integrated customer experiences, then one must market and advertise with integrated methodology. If you are going to be successful at integrated multichannel marketing and advertising with inbound sales funnels that convert your leads, advertisers must work with teams that are integrated with tech stacks, environments and talents to get the job done. This is why the new class of integrated marketing agencies business is booming.
And, it's why the old agency model is dying. Small brands and big brands alike now can empower their 2-200 person in-house marketing teams to produce the most and the best. It just takes partnering with the right agency partner. It is being accomplished every day, for every client, in every industry by FabCom. Take a look at our integrated marketing and advertising system that powers our unique neuromarketing methodology in the animation below. We hope this picture speaks a million words! If it did, then you did not have to read my rant!