Advertising Case Study
Not-For-Profit Marketing and Event Production
Everything needs marketing—from locally-owned cupcake shops to Hollywood-produced movies. Everyone needs marketing that works. You market yourself, whether it's on social media (hello curated personal branding), positioning your brand, or one-to-one sales messaging. Same goes for not-for-profit (NFP) organizations.
With the advent of shrinking support from the public sector, increased competition for funding, and the need for effective, cut-through-the-clutter, and emotional marketing in the NFP sector has exploded.
FabCom, an integrated strategic marketing and advertising agency, has been producing advertising and marketing content for NFP campaigns, commonly health and research, for decades—we know what works in all economic conditions.
Recently the agency produced a powerful social media strategy and event campaign for a non-profit organization that focuses on the wrongfully convicted in Arizona. This Advertising Case Study will focus on phase two of the strategy and the value-added benefits of using a new-breed, integrated marketing agency for your event production.
Nonprofit social media marketing strategy
The NFP marketing strategy included right-sizing the naming, branding, positioning, and identity of the client to most accurately depict its differentiating facets from other justice/innocence project affiliates and causes. By focusing on the development of deeper relationships between concerned stakeholders, the strategy influences content development and community advocacy, which portrays community leadership as the experts and authority partner when working on key issues involving the mission and vision of the organization.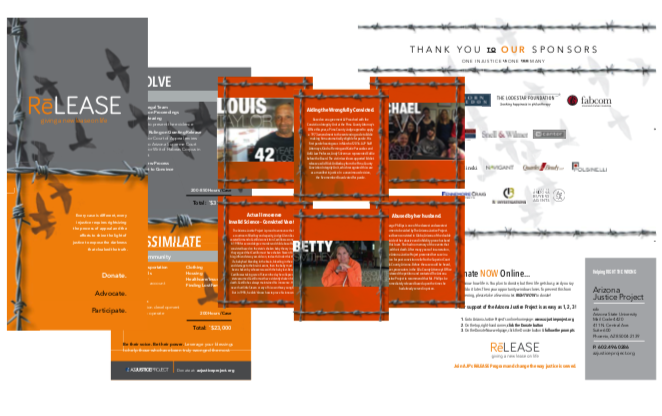 For successful strategy implementation, the agency accomplished brand development, positioning, key messaging, and tactics that included:
Corporate identity and positioning
Social media training guide
Social media templates
Universal analytics initiative
Forward-embedded analytics and tracking
Keyword bank development
Website design infrastructure, layout, and architecture
Search engine optimization
Search engine marketing
"Anchor" fund development videos
LinkedIn build and syndication initiative
YouTube repository for video assets
Twitter syndication and design architecture enhancements
Facebook syndication
Digital signatures
Theme development
Messaging and voice development
Situation
After the agency successfully produced new branding and positioning for the client as phase one, phase two included marketing and planning a donor event. As a key part of the campaign, the donor event One Too Many came to fruition—focusing on innocent people who were wronged by the justice system.
Non-profit event objectives
In addition to fundraising and increasing awareness for the client's cause, other goals this event accomplished included:
Drive overall awareness of client and their accomplishments beyond the very small legal community cohort supporting the organization.
Create reliable, consistent, and scalable social communication channels through the use of appropriate messaging for each segmentation and target cohort.
Separately influence priority target segmentations toward awareness of relevant and recent information from the client.
Diversify and increase the client's capacity to portray themselves as an authority within the community and wield subject-matter influence to facilitate the connections and community relevance required for sustained and increased fund development.
Restraining forces
When planning the donor event, the NFP experienced some restraining forces, including budgets, timelines, and overall resources needed to compete with well-funded organizations for the attention of the community's eye.
Because the client works with confidential information, many aspects of their work cannot be shared with the public. To ensure that ongoing cases are not affected, no distinguishing personal information can be published without a specific release. The challenge—in order to make marketing and advertising personal and relevant, a certain amount of information should be included in order for readers to affiliate, feel for, or identify with the client and their mission.
In order to properly implement the intended goals and objectives of the marketing, positioning, and social development strategy, the scope and targeted groups as well as the areas of focus were narrowed and leveraged more granularly.
Target audiences
Following the social media strategy, the agency targeted the local Arizona community at large, business employees/owners, college students, and local press dedicated to justice reporting. In order to achieve target audience turnout, the agency curated a diverse group of people from the community that brought together old and new including local businesses, influential community members, and high net- worth donors. Also in attendance were veteran lawyers that have been around the industry for a long time and law students who were just breaking into the field—all banding together to help the innocent.
Integrated donor event strategy
The client has three main avenues to evoke emotion. Empathy for the wrongly convicted, those who suffered manifest injustices, and excessive sentencing. Anger for the lapses of justice carried out by our government in our system. And the most connectable feeling, a fear that it could happen to you and your loved ones.
The best way to evoke emotion is through telling a story. One way the agency did this was by producing profound videos to create and conjure emotion through authentic, real-world content. By capturing real imagery of the cell the wrongfully convicted was in and real imagery of his or her family, the visuals created a sense of reality and empathy for people in attendance at the donor event.

In order to tell a story, the first annual event was centered around individuals who were released from prison due to wrongful conviction. The agency interviewed these individuals and crafted heartfelt videos to be played during the event. To further emotional investment, the event included a panel of speakers of the wrongfully convicted individuals to tell their full story.
This wove an emotional connection and instant, in-the-moment empathy within the content in such a visceral way that it enabled others to see, feel, and understand what was happening to that individual and thus allowing that instance to become relevant to the audience.
This accomplished two goals: demonstrating how tax dollars are wasted keeping a person unjustly in prison, and how, now that the person is free, they are a contributing member of society, and further develop community relations to help create engaging co-op content in partnership with others by focusing on relevant and recent information.
Campaign tactics
All design elements were created around the central theme of birds flying over a barbed wire fence.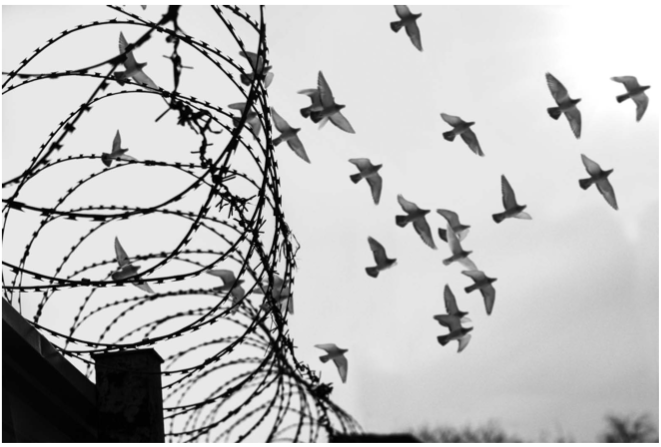 The imagery and texture theme was implemented through all elements, including the invitations and website.
Another element of design was added to the table toppers, which incorporated the individuals released from prision as a tri-fold table-tent styled brochure facing each dinner setting. Every person featured also attended the event.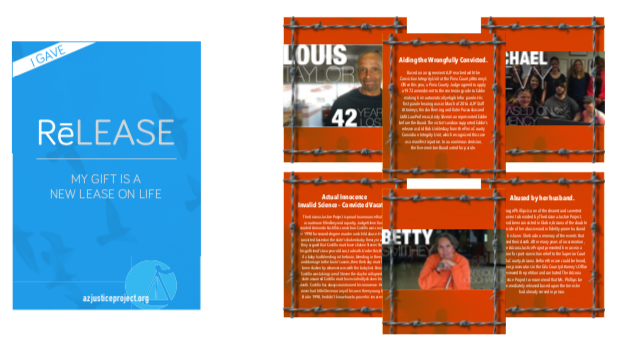 The color scheme consisted of blues and bright orange to symbolize the transition from prision to new horizons the donors were empowering.
NFP donor event Implementation
The event had two ticket tracks: legal student and general admission. Show flow was based around the speaker process followed by the ask (donations) at the end. The agency provided branded envelopes for donors to put their contributions in.

Other services the agency provided for a successful donor event production were:
Strategy
Print production
Venue coordination
Videography
Presentations
PowerPoint templates
Speaker content creation
Show flow
Results
Success of this event was two-fold: over 380% of the first year's goal was raised and video footage was captured for the following year's marketing efforts. With 250+ people in attendance for the inaugural fundraising event, the event was successful in helping the client gain long-term sponsors through a new sponsorship program that gained popularity and also created philanthropic momentum and brand engagement for the next fundraising effort. The first event was so successful, that the strategy was immediately extended into the next year's primary activities.
FabCom's cross-disciplined team takes event marketing, street-level marketing, and professional brand debuts from concept to completion, with everything in between. As an integrated marketing team, we take the difficulty of planning an event—from donor dinners to conferences and trade shows— off your hands and turn it into a powerful weapon in your advertising and marketing portfolio to create an incredible return on investment.